Suspension of all commercial and private passenger flights between India, Pakistan and Canada
April 27, 2021
On April 22nd, the Government of Canada announced that all direct commercial and private flights from India and Pakistan will not be able to fly to Canada for 30 days.
If passengers from these countries are coming to Canada via a connecting flight, they must also obtain a negative PCR test from their last point of departure before continuing to Canada. PCR test results obtained in India or Pakistan will no longer be accepted, and the negative test result is mandatory to be allowed to board your flight.
These new measures are guided by the latest science, public health advice and the evolving COVID situation around the world and are designed to help keep Canadians safe, to reduce the spread of COVID-19 within Canada, and to protect from the new emerging COVID variants.
Specifically, the decision is based on an examination of the positivity rate for passengers arriving in Canada from India and Pakistan. Reported data indicates that, from March 31st to April 13th, there have been 44 imported cases of COVID-19 from Pakistan out of 2226 arrivals, second only to India. Importation rates from Pakistan have continued to increase over the last three weeks, with greater than 20 reported cases per week. On a percentage positivity basis, the COVID infection rate captured by border testing reached 2.47 per cent for Pakistan for the week ending April 10 and has been rising sharply, compared to 1.5 per cent for India and, as a baseline for comparison, .60 per cent for the United Arab Emirates.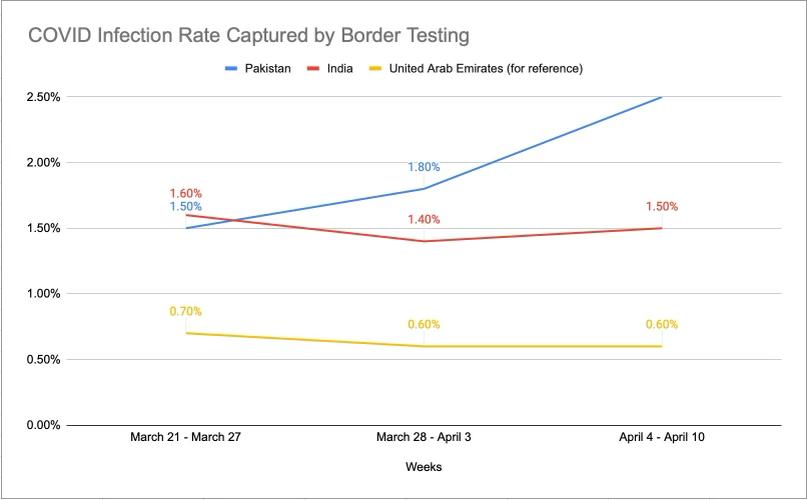 Our existing measures of pre and post-arrival testing and 14-day quarantine remain in place and will continue to help keep everyone safe. They are among the strictest in the world. And since last spring, we have been clear that now is not the time for non-essential travel.
Canada's Foreign Affairs Minister Marc Garneau spoke today with his counterparts, Shah Mehmood Qureshi of Pakistan and Subrahmanyam Jaishankar of India to express Canada's solidarity with the people of Pakistan and India, and our collective commitment to resume travel when it is safe to do so.
The Government of Canada is continuing to monitor the evolving pandemic and will always take decisive action that protects the health and safety of Canadians. And, as a Member of Parliament, I will continue to bring the voice of the people to Ottawa and to ensure that decisions are always made based on objective science and data.
-- Salma Zahid, Member of Parliament, Scarborough Centre