Happy Canada Day! An update from your Member of Parliament
July 1, 2020

Happy Canada Day!
It's Canada Day in Scarborough! While we can't celebrate with the traditional parade this year, that doesn't mean we can't show our Canadian pride.

I'm proud to live in a diverse and caring community that people of so many different faiths and backgrounds call home. I'm proud of the opportunities that Canada has provided me to reach for my dreams, and for allowing my children to reach for their dreams as well. I'm proud of a country that recognizes we can and must do better to ensure that all our citizens can reach for their Canadian dream.

The pandemic is still with us so let's wave the flag but keep our distance -- and wear a mask when you can't. Because as Canadians, we all do our part. Enjoy today, and always be proud to call Canada home.

Happy Canada Day!

Salma
Canada Day Messages
Virtual Canada Day Celebrations
While we can't celebrate Canada Day together in person this year as we traditionally have, we can gather with friends and loved ones and take part in virtual celebrations. Here are some of the virtual celebratiosn happening this Canada Day.

National Celebrations
Canada Day Daytime Show: The daytime show, Canada Day Across the Country, offers you a virtual tour of the celebrations. With hosts Serena Ryder and Pierre-Yves Lord, discover talented artists from Sudbury, Montréal, Québec, Moncton, Winnipeg, Yellowknife and Calgary. Celebrate our country's cultural diversity, sporting excellence, Indigenous culture and languages, and the resilience of front-line workers. A nod to the 40th anniversary of the national anthem "O Canada" and many surprises await you.1:00PM to 2:00PM on CBC, CPAC and online. 
Canada Day Evening Show: The evening show, Canada Day Together, is a unique edition of Canada's annual iconic celebration. Hosted by Serena Ryder and Pierre-Yves Lord, the show features original artistic collaborations between performers from coast to coast to coast, including stops in Halifax, Toronto and Vancouver. They have quite the show in store for you! Let yourself be entertained in the comfort of your home. The night winds up with a montage of the best Canada Day fireworks from past years.8:00PM to 10:00PM on CBC and online.
Local Celebrations
Toronto unites online this year for Canada Day. On July 1, join morning, afternoon and evening livestream programs showcasing Toronto's brightest talent. Enjoy music, dance, comedy, CN Tower Canada Day Light Show and much more on Canada's 153rd birthday. Participate in virtual Canada Day programs from home and download a Celebration Kit with interactive and creative activities for the whole family. Canada Day 2020 livestreams will be available on July 1 beginning at 9 a.m.
Increasing GIS earnings exemption for seniors
Effective July 2020, the following enhancements to the Guaranteed Income Supplement (GIS) earnings exemption will come into effect:
Expanded eligibility for the earnings exemption to include both employment and self-employment income;
An increase to the amount of the full exemption from $3,500 to $5,000 per year for each GIS or Allowance recipient, as well as their spouse or common-law partner; and,
A new partial exemption of 50%, to apply on up to $10,000 of annual employment and self-employment income beyond the new $5,000 threshold for each GIS or Allowance recipient, as well as their spouse or common-law partner.
The enhanced earnings exemption will become effective for the July 2020 to June 2021 payment period and will apply to income made in the 2019 calendar year or later. Upon receipt of your annual income (and/or your spouse's or common-law partner's income), Service Canada will automatically apply the new GIS earnings exemption. The maximum amount of earnings that can be exempted is $10,000.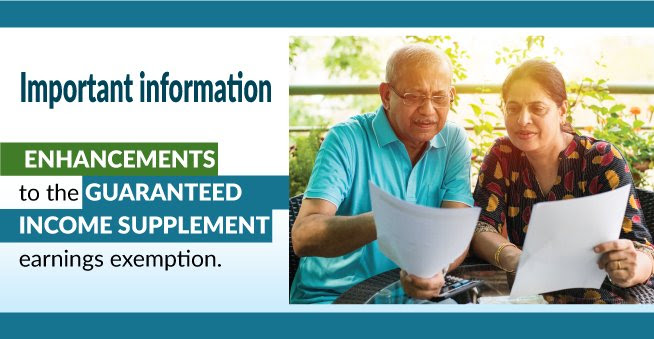 Canada Student Service Grants launch
For students looking to save for post secondary but having trouble finding work due to COVID-19, our government has launched the Canada Student Service Grant (CSSG) program and the I Want to Help platform.

The CSSG program will run from June 25, 2020 until October 31, 2020 and will provide eligible post-secondary students and recent graduates the opportunity to serve their communities and receive a grant of between $1,000 and $5,000.

The I Want to Help platform will provide eligible post-secondary students and recent graduates access to volunteer service opportunities. Not-for-profit organizations will also be able to upload volunteer opportunities to this platform so that students can search and apply for opportunities in their communities.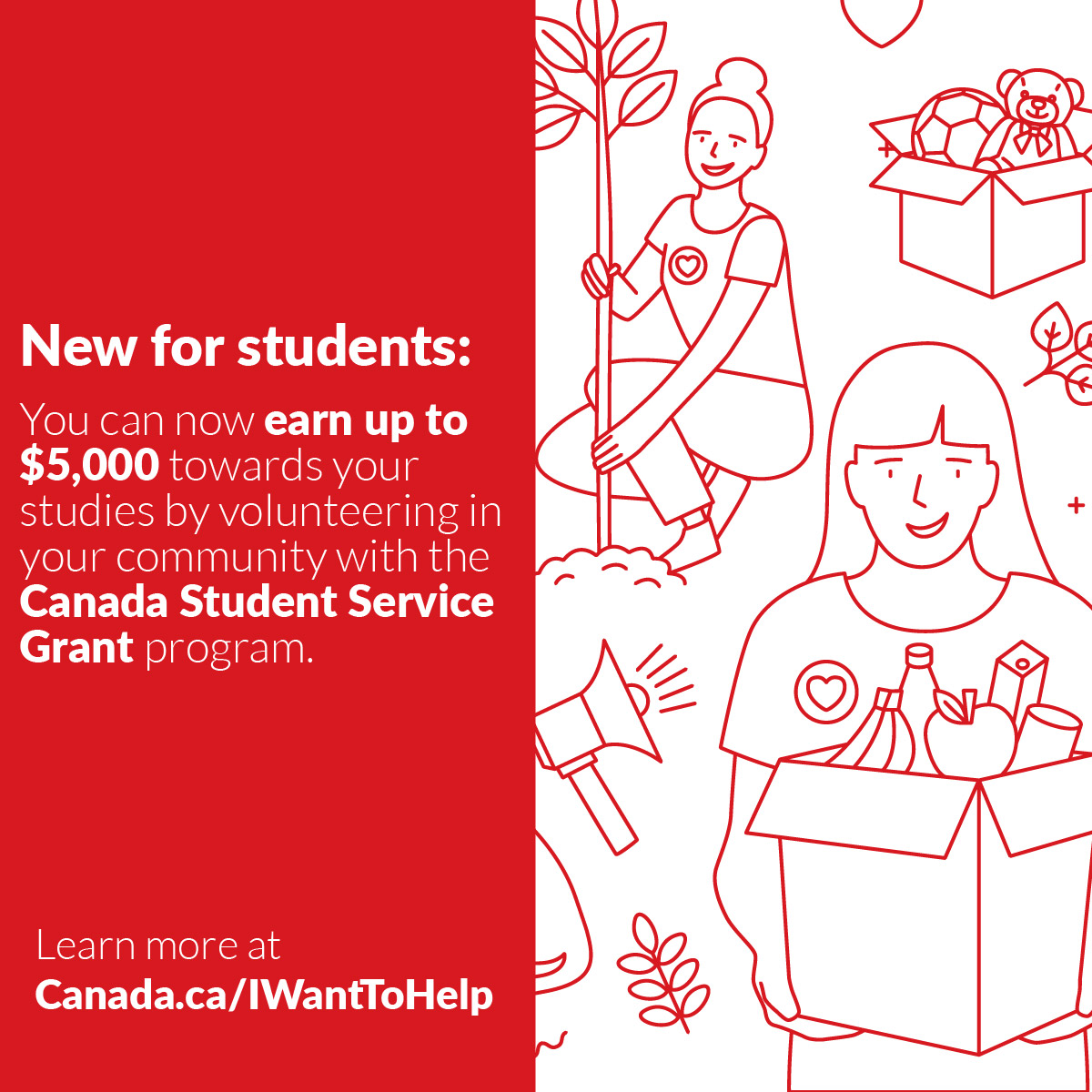 Government programs open to local organizations
Our office can help you learn more about these government programs for local organizations, if your organization may qualify, and how to apply.
Enabling Accessibility Fund (EAF) - Small Projects Component: The call for proposals for the EAF small projects component provides funding to organizations for small-scale construction, renovation or retrofit projects that enable persons with disabilities to live and work in more inclusive and accessible communities. This year, instead of the originally allotted 12 months to complete a project, organizations that apply for funding will now have up to 24 months to complete their projects. Additionally, projects approved for funding will now be 100% funded to a maximum of $100,000. Organizations have until July 13, 2020 to apply by visiting canada.ca/accessibility-fund.
Enabling Accessibility Fund (EAF) - Youth: The EAF's youth innovation component engages and challenges youth leaders to volunteer and collaborate with local community-based organizations and apply for funding up to $10,000 for accessibly projects. Interested youth accessibility advocates can apply online. The call for expressions of interest for youth leaders will close on October 30, 2020.
Supporting Black Canadian Communities Initiative: Our Government has established a Supporting Black Canadian Communities Initiative and is investing $25 million in projects and capital assistance to celebrate, share knowledge and build capacity in Canada's vibrant Black Canadian communities. A call for proposals has just launched as part of this initiative to invite eligible, Black-led organizations to submit proposals of up to $100,000 for capital projects such as purchasing work-related equipment; and/or undertaking renovations and retrofits of existing community and work spaces to improve their functionality. The process will run between June 26 and July 27, 2020. Selections will be announced in late September 2020. Please see Applicant Guide and Application Page.
A mesage for the class of 2020
Online COVID-19 resources